An Infection Prevention and Control Training Collaborative
Project Firstline is a CDC national training collaborative offering timely infection control training to front line health care workers and the public health workforce in the fight against infectious disease threats. As a key partner in this initiative, AHA is pleased to help bring this critical training opportunity to the health care field and champion sound decision-making and positive behaviors in a time of crisis.
To stop the spread of infectious disease threats—including COVID-19—anyone working in a health care facility needs a foundational knowledge of infection control and must understand and be ready to implement infection control protocols and procedures throughout their work day, including during every patient care activity and health care interaction.
AHE is pleased to contribute to this critical education and training opportunity and offer resources supporting health care environmental services professionals in their commitment to a pathogen-free healing environment across all care settings.
Share this page with your manager and other health care front line professionals, and let them know they can follow Project Firstline on Facebook and Twitter for the latest information about upcoming resources and events.
Taking Care of the Patients:
Geisinger and Project Firstline
AHE Resources
AHE Offers Additional Training Resources for IPC
Proper disinfection techniques in the environment of care directly impacts the rate of health care associated infections and patient outcomes. The Association for the Health Care Environment provides training resources and a variety of signature programs that help environmental services technicians define and maintain standards in the environment of care.
Other Resources
What Health Care Needs to Know About Infection Control & the Environment of Care
CDC | AHA | HRET | AHE
AHE's Executive Director, Patti Costello, hosted CDC's Drs. Michael Bell and Abigail Carlson who serve as infection control advisors and subject matter experts for Project Firstline, and who discussed what every front line health care worker needs to know about infection control and the environment of care, and why giving EVS leaders a "seat at the table" is crucial to organizational success.
Partners
Project Firstline is a collaborative between CDC and a diverse group of organizations
American Academy of Pediatrics, American Medical Association, American Nurses Association, Asian and Pacific Islander American Health Forum, Health Research and Educational Trust, National Association of County and City Health Officials, National Council on Urban Indian Health, National Indian Health Board, National Network of Public Health Institutes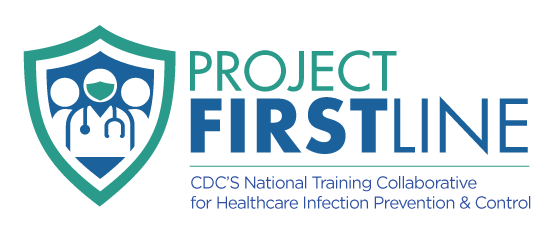 The Project Firstline program is a national training collaborative led by the Centers for Disease Control and Prevention (CDC) in partnership with the American Hospital Association and the Health Research & Educational Trust (HRET), an AHA 501(c)(3) nonprofit subsidiary.
Want to learn more about Project Firstline? Contact ProjectFirstline@aha.org.
Project Firstline is a national collaborative led by the U.S. Centers for Disease Control and Prevention (CDC) to provide infection control training and education to frontline healthcare workers and public health personnel. AHA is proud to partner with Project Firstline, as supported through Cooperative Agreement CDC-RFA-OT18-1802. CDC is an agency within the Department of Health and Human Services (HHS). The contents of this webpage do not necessarily represent the policies of CDC or HHS, and should not be considered an endorsement by the Federal Government.