Practice Guidance for Health Care Environmental Cleaning, 3rd Edition eBook
Evidence-Based E-Resource from the Recognized Authority
Leverage best practices and tools to create and maintain safe environments of care. This go-to resource guides users through what takes place in each area of care, details why each area may be high-risk, and explains how to properly clean and disinfect each area. Environmental services and infection prevention professionals gain an understanding of why specific practices and procedures are recommended. 
The third edition of Practice Guidance for Health Care Environmental Cleaning, The Essential Resource for Environmental Cleaning and Disinfection, will include several new sections and expand on topic areas from previous editions. This guidance provides an up to date resource for cleaning, disinfecting, and safety in the health care environment.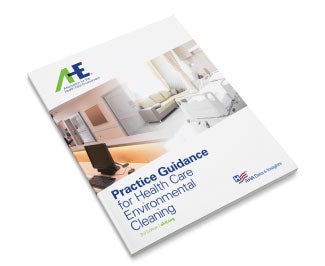 Practice Guidance represents an opportunity for all health care professionals to leverage best practices, tools and resources to work towards safe environments of care, together. 
Validate your current environmental hygiene program using one comprehensive resource. Respond to challenges regarding your current processes and procedures.

Strengthen execution of environment of care processes and procedures by delving deeper into methodologies, tactics and techniques.

Elevate performance by connecting processes, and procedures to purpose. Gain insights into the reasoning and evidence that serves to formulate environment of care best practices.
---
New Electronic Delivery
Now available through e-subscription only, content is downloadable, searchable, and mobile friendly – putting reference at user's fingertips at the point-of-care. Content is searchable and updated as the science changes. Users always have access to the latest content.
---
New Content Includes:
CDC's Core Infection Prevention Practices
New comprehensive chart on the characteristics and activity of disinfectants 
New pathogens such as C.auris and M. chimera and other microorganisms that have been identified as having significance environmental contamination and transmission
Joint Commission's Standards content on antimicrobial stewardship and on emergency management including:

floods
natural disasters
mass casualties
emerging pathogens 

CMS requirements for health care facilities
Patient Safety and Environmental Services 
One and Only Campaign for Needle and Sharps Safety
Linen management
Quality assurance and monitoring quality assurance
Environmental strategies and technologies
Novel technologies for disinfection of the environment, and more!
---
Contributing Authors
A special note of appreciation and thanks to this wonderful cadre of infection preventionists and hospital epidemiologists who contributed their time and expertise.

Michelle (Shellie) Andra, MSN, RN, COHN-S, CPHQ, Kristina Bryant, M.D., FPIDS, David P. Calfee, MD, MS, FIDSA, FSHEA, Ruth Carrico, PHD, DNP, APRN, FSHEA, CIC, Elizabeth F. CHINNES, RN, BSN, CIC, FAPIC, Nychie Dotson, MPH, CIC, CPHQ, Loretta Litz Fauerbach, MS, FSHE, FAPIC, CIC, Julia Frith, MSN, DNP, RN, CIC, Linda Homan, RN, BSN, CIC, April Huggler, MBA, Nyla Skee Japp, RN, PhD, ACSP, RCST, CSPDM, CASSPT, Lela Luper, RN, FAPIC, CIC, Roberta (Bobbi) Mott, BSN, RN, CIC, V. Robin O. Novak, BSN RN CIC, Salah Qutaishat, PhD, CIC, FSHEA, FAPIC, Julie M. Richards, MSN, RN, CIC, Lynne M. Sehulster, PhD, MS, M(ASCP), CMIP(AHE), Carl Solomon Sr., MBA, FAHE, CHESP, Elizabeth E Tremblay, MPH, CPH, CIC, Timothy L. Wiemken, PHD, MPH, FAPIC, FSHEA, CIC, Kelly Zink, MPH, BSN, RN, CIC, CPHQ