Environmental Services Department of the Year
The Environmental Services Department of the Year Award provides national recognition for the significant contributions made by an environmental services department to the overall patient experience and achieving a health care organization's mission.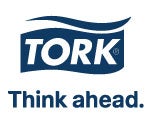 Sponsored by Tork
The EVS Department of the Year highlights the outstanding achievements of a cutting-edge environmental services team in maintaining high levels of performance in cleaning, disinfecting, infection prevention, environmental sustainability and stewardship, technology use, patient satisfaction, education, and training in critical areas.
EVS Department of the Year Award winners will be announced during the 2023 AHE Exchange Conference in Dallas, Texas July 31-August 2.
---
2023 EVS Department of the Year Award
Extended Nomination Deadline: Friday, March 3
Every year, AHE recognizes the extraordinary work environmental services departments contribute to the health and safety of hospitals and health centers.
AHE wants to recognize your efforts to protect the health and safety of medical staff and patients. Share the contributions your EVS department made in the past year for a chance to get national recognition for your facility's significant contributions to environmental services.
Award Categories
Long-term facility
Small facility (1-249 beds)
Medium-size facility (250-499 beds)
Large facility (500+ beds)
Who should apply
Data-driven teams and departments demonstrating consistent improvement over baseline metrics and scores
Teams that stand above the rest, exceeding performance standards
Departments demonstrating high levels of performance, productivity and efficiency
Nomination Information
Candidates may be nominated by an AHE member or non-member or may nominate themselves
The current AHE Recognition Committee will select award winners based on submitted nominations. The committee may request additional information if needed
All submissions become the property of AHE
2022 EVS Department of the Year Selections
2022 EVS Departments of the Year
1-249 Beds: Texas Health Frisco - Frisco, TX
250-499 Beds: Mayo Clinic Health System, NWWI – Eau Claire, WI
500+ Beds: Orlando Regional Medical Center – Orlando, FL
2022 Certificate of Merit Recipients
1-249 Beds: St. Jude Children's Research Hospital - Memphis, TN
250-499 beds: CaroMont Regional Medical Center – Gastonia, N.C.
500+ beds: Parkview Health – Fort Wayne, IN