EVS Leadership: A Seat at the Table
This leadership development course was made specifically for health care EVS leaders. 100% of past participants would recommend this leadership course to someone else! Learn more about this program below!
A Seat at the Table Facilitator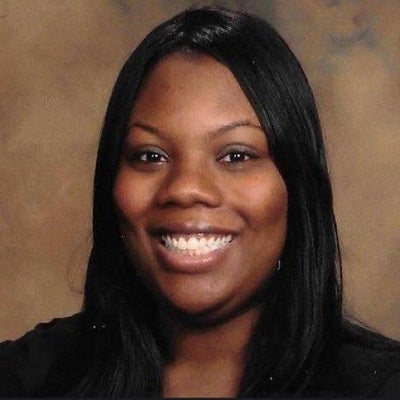 Sade' Rolon
MBA, CHESP, T-CSCT, T-CHEST
Sadé Rolon (phonetically pronounced Shah-day Rol-loan) is the Associate VP of Environmental Services for the ProMedica Health System. She is certified in CHESP and assists as a trainer for the CHEST and CSCT certification programs. She holds a B.A. degree in Criminology from The Ohio State University and a MBA degree in Healthcare Administration from Tiffin University. She is currently pursuing her DHA in healthcare administration.
Her responsibilities include the oversight of EVS Teams at 10 acute care locations, Linen Services, Pest Management Programs, Waste Management Programs as well as a few other support service contracts. Sade' brings nearly 16 years of healthcare management and leadership experience to ProMedica Health System. She is passionate about helping others and excited to be contributing towards the goal of developing, mentoring and empowering future leaders in the Environmental Services Industry.
A Seat at the Table Facilitator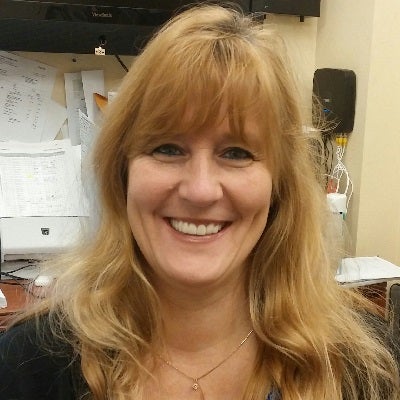 Kim Miller
CMIP, T-CHEST, T-CSCT
Vice-President of Support Services at UW Medicine | Valley Medical Center, Kim Miller has implemented countless work flow improvements, process improvement projects and equipment upgrades which have resulted in dramatically improved performance results for her departments. Her teams have generated an increase in HCAHPS scores from near the bottom to the 90th percentile and at the top of the UW Medicine system.
Ms. Miller began her career in healthcare services in Facilities and Engineering at Valley Medical Center in 2004. Her thorough knowledge of facilities, diligence in understanding problems and enlisting a team approach to help solve issues, have contributed to her success in Environmental Services, which she began leading just as the Ebola crisis erupted nationwide.
When she is not working (which she is known to do at all hours!), Ms. Miller likes to camp with family and friends, ride Harleys and spend time with her twelve grandchildren.
You and your team play an essential role in your organization by keeping patients and employees healthy and improving clinical outcomes. This experience is designed to help you become a more effective leader and have a bigger impact on your organization. It will empower you to take "a seat at the table" with other leaders by demonstrating your value to your partners, stakeholders, and other leaders.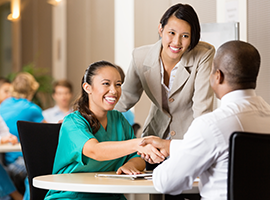 Advance your career by identifying who you are as a leader, learning about best leadership strategies and networking with other EVS professionals. Topics Include:
Effective Coaching
Connecting Work to Purpose
Recognizing your Team
Dynamics of Change
Entrepreneurial Thinking
And More
Program Format
This class is available 24/7 within the scheduled timeframe. You may work at any time of the day and you are not required to log in to the course at any specific date/time. There will be four weekly facilitated synchronous meetings via zoom.

   Course Agenda
Course introduction

Defining Leadership

Identifying Who You Are as a Leader

Part 1: Your Leadership Style
Part 2: Leadership Best Practices

The Roles of a Leader

Your Responsibility
Critical Thinking and Strategic Thinking
Decision-making
Personal Mission Statement

Module Conclusion

SMART Goals
Reflection
Virtual Cohort Discussion

The Value of a Network

What is Social Capital?
What is a Network?

The Value of Networking in a Healthcare Organization

Business Networking
How to Hack Networking
Practice Networking and Developing Relationships
Setting Up Coffee Connections

Creating a Personal Sounding Board

The Mentor/Mentee Mindset
Build and Be a Sounding Board
Make a Shortlist
Set up a Soundboard Meeting

Building and Being a Personal Sounding Board

The Proactive Mentor
Be a Sounding Board
We Never Stop Growing

Module Conclusion

Reflection
Virtual Cohort Discussion

Leadership, Leaders, and Leader Styles

Leadership and Culture
Leadership, Leaders, and Leader Styles
Persona Activity

Applying Leadership Styles

Application Activity
Successful Delegation
A Guide to Delegation

Effective Coaching

Defining Coaching
How Do I Have a Coaching Conversation?
Crafting Feedback
Appreciation, Development/Coaching, and Evaluation
Practice Feedback Activity

Connecting Work to Purpose

Recognizing Your Team

Recognition vs. Rewards
Activity: Team Member Recognition
Celebrate What You Want to See
Activity: Plan Individual and Group Recognition

Module Conclusion

SMART Goals
Virtual Cohort Discussion

Understanding Change

Understanding Change
A Theory of Change
Resisting Change Activity

Social and Psychological Dynamics of Change

Psychological Forces Driving and Restraining Change
Individual Change: The Cycle of Change
Collective Change: The Team Performance Curve
Team Performance Curve Activity

Leading Change

Leading Change Model
Reflection Activity

Psychological Safety for Change

Creating Psychological Safety
Psychological Safety Activity
Leader Behaviors that Promote Psychological Safety

Entrepreneurial Leadership

Defining Innovation
Brainstorm Activity
Being a Change Agent
Practice Entrepreneurial Thinking

Module Conclusion

SMART Goals
Virtual Cohort Discussion