EPA Addresses Challenges in Managing Hazardous Waste Pharmaceuticals
Simplify and Save Money
For many years, the health care community has communicated its dissatisfaction with the application of traditional hazardous waste regulations to the management of hazardous waste pharmaceuticals. The EPA's response has resulted in three regulatory changes that will greatly impact how hazardous waste pharmaceuticals are managed in health care environments.
These three key changes impact the daily responsibilities of environmental services teams and other health care workers. The AHE has put together materials to ensure members have a robust understanding of these new protocols, ensuring all safety precautions and waste management measures are fully adhered to in the environment of care.
Summary
The EPA's changes to the regulation of hazardous waste pharmaceuticals under the Resource Conservation and Recovery Act (RCRA) took effect on August 21, 2019. This includes the federal administered states of Iowa and Alaska, as well as most US territories. Implemented effectively, these three changes can help your organization save money and simplify hazardous waste management.
Access AHE Resources
Pharmaceutical Waste Update On-Demand Webinar: Save Money, Reduce Risk with Subpart P
View our on-demand webinar, presented by Charlotte A. Smith, R. Ph., M.S., for an in-depth look at all the ways your organization can save time and money, while staying in compliance with local and national hazardous pharmaceutical waste guidelines.
Take Survey
AHE Technical Paper: EPA Addresses Challenges in Managing Hazardous Waste Pharmaceuticals
AHE Member Resource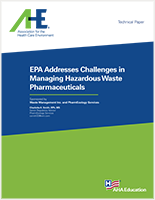 Download this reference for a deep dive explanation about the new updates, and a look at the science behind the new regulations for the handling and disposal of hazardous pharmaceutical waste.
Download Technical Paper
Infographic: New Hazardous Pharm Waste Rules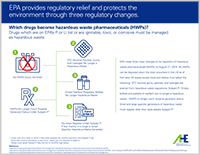 Download AHE's infographic on the three major changes to the regulation of hazardous waste pharmaceuticals.
View Infographic
Breaking Down the Three Key Changes
No hazardous waste pharmaceuticals can be disposed down the drain anywhere in the US.

What it means for you: No hazardous waste pharmaceuticals can be disposed down the drain, including unused IVs in the nursing unit. All hazardous waste materials must be incinerated as hazardous pharmaceutical waste.

What you need to do: Partner with both the pharmacy department and nursing department to develop a new pharmaceutical waste policy at your health care organization. Prohibit the draining of these drugs in unused IVs and other dosage forms, such as tablets and capsules. Consider a total ban on draining any pharmaceutical waste to avoid confusion.


The EPA amended the definition of nicotine as a p-listed hazardous waste, P075, to exclude over-the-counter (OTC) nicotine replacement therapy in the form of the lozenges, gums, and patches. This new provision must be adopted by every state.

What it means for you: Unused nicotine patches, gums, and lozenges and their empty packaging can be disposed as non-hazardous pharmaceutical waste when this is adopted by your state. Used nicotine patches should be managed as non-hazardous.

What you need to do: Determine if your state has already adopted the OTC nicotine amendment; check with your pharmacy and nursing departments to see if they have already made appropriate changes to policies and procedures. If they have not, partner with these departments to develop a new protocol.

*Note: Only OTC nicotine is included. This new provision does NOT include prescription nicotine replacement therapy.


The EPA created a new specific section in hazardous waste regulations, 40 CFR 266 Subpart P, Hazardous Waste Pharmaceuticals. This new section provides significant guidance in terms of generator status, empty container management, reverse distribution, exemption of hazardous waste controlled substances, and other changes.

What it means for you: With these new criteria, many health care facilities can change from large quantity generators (LQG) of hazardous waste to small quantity generators (SQG), or very small quantity generators (VSQG).

What you need to do: Using the provided webinar and white pages, determine if your facility can reduce its generator status, saving money and contributing less hazardous waste to the environment.