AHE Corporate Champion Spotlight: Diversey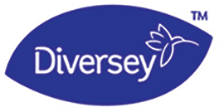 Diversey's purpose is to protect and care for people every day. Diversey has been, and always will be, a pioneer and facilitator for life. We constantly seek to deliver revolutionary cleaning and hygiene technologies that provide total confidence to customers across all our global sectors. These include: facility management, health care, hospitality, retail and food service. Diversey is a provider of cleaning, sanitation and maintenance products, systems and services that efficiently integrate chemicals, machines and sustainability programs. Everything we do is based on the implicit belief that cleaning and hygiene are life essentials and that what we undertake constitutes a vital service.  
Diversey Solutions Designed for Healthcare™ helps healthcare providers create a safer and more satisfying environment of care. Our portfolio includes floor-to-ceiling solutions infection prevention technologies and products, building and floor care systems, world-class machines, and onsite services that are designed to achieve improved clinical outcomes, while improving the overall bottom line. These result in reduced costs, increased revenues and optimized value-based reimbursements. These solutions are tailored to each facility to help reduce the rate of infection, simplify and standardize activities to drive productivity while executing consistent and validated environmental hygiene practices.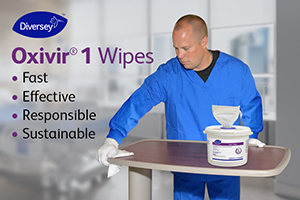 Featured Product
---
OXIVIR®
1 WIPE, 1 MINUTE, 1-STEP CLEANING AND DISINFECTION
Time is limited, and staff need the most efficient tools for the job. Oxivir efficiently removes pathogens in one pass, staying wet for the required contact time. Studies have also demonstrated its effectiveness in the presence of wet and dry biofilms, and as importantly, its ability to remove pathogens vs. redeposit them on the surface.
Powered by Accelerated Hydrogen Peroxide® (AHP®), Oxivir 1 is effective against ~100 key pathogens in one minute or less, including C. auris.
Oxivir offers the best possible safety rating. It is non-irritating to eyes, skin and respiratory tracts, making it pleasant for use by staff, and around patients.