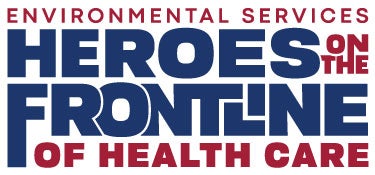 Kimberly-Clark Professional, in partnership with the Association for the Health Care Environment, is excited to announce the NEW Environmental Services Heroes on the Frontline of Health Care Monthly Spotlight – a recognition program designed to highlight and lift up outstanding EVS personnel who are going above and beyond to make a difference during these very challenging times your health care facility and others are facing.
Right now, due to Covid-19, many patients are being admitted with no loved ones or visitors allowed by their side. We know there are many stories and examples of EVS personnel who are not just keeping these patient's room to the utmost standard of cleanliness, but also being a friendly face and a source of comfort for them during this time. These are our true heroes.
Beginning in May, we will spotlight four (4) outstanding individuals each month. All spotlights selected will be featured on AHE's website now through National Health Care Environmental Services Week™ September 13th-19th and each recognized individual will receive a small token of our appreciation for all that they do as a true Hero on the Front Line of Health Care.
After months on the front lines of the COVID-19 pandemic, environmental service professionals have served as a source of comfort for patients not able to see loved ones, while maintaining rooms to the highest standards of cleanliness. EVS personnel are heroes deserving of recognition, but never forget they are human, too, and also may need care.
To support these health defenders, AHA has a number of behavioral health resources, including a page dedicated to

COVID-19: Stress and Coping Resources

.
---
Spotlight Honorees