AHE Symposium 2021: A Message from the AHE Executive Director
As the AHE 2021 Symposium in Orlando approaches, I wanted to provide an update on the steps we are taking to support the EVS profession during this unprecedented time. In response to the feedback we've received from the EVS community, we have adjusted the program to more efficiently deliver the content you need and minimize your time away from the workplace.
Adjusted Schedule – Same Great Content
We have adjusted the full program schedule and posted it to the 2021 Symposium website. All general sessions and breakout programs are now scheduled for Monday, November 1, and Tuesday, November 2, with pre-conference programs and select other attendee opportunities on Sunday, October 31.
Convening the AHE Community
AHE is committed to providing members with the opportunity to reconnect with peers and share experiences. At this year's Symposium you will find a series of more intimate networking opportunities scheduled throughout the event. These events will allow attendees to engage with industry partners in new ways as well, in contrast to the large-scale exhibit halls of the past.
Your Health and Safety We are taking the following precautions to help ensure members can safely participate in the 2021 Symposium's education and networking programs:  
All attendees, regardless of vaccination status, will be asked to wear masks while indoors. 
We will be encouraging social distancing and hand hygiene practices within the meeting spaces.  
The hotel and meeting facility in Orlando has put in place additional cleaning and safety guidelines in accordance with CDC guidelines. 
Virtual Alternatives We are also aware that some community members may not be able to travel or may feel uncomfortable doing so in the current environment. This is why AHE is offering a Virtual Symposium November 30-December 2, 2021. This program will closely resemble the education experience offered during the in-person program. A full virtual program schedule will be released soon.
AHE is committed to supporting you and the EVS profession. We hope you will join us this year for the 2021 Symposium, in-person or virtually.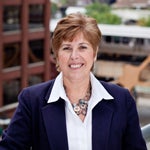 Patti Costello
Executive Director
Association for the Health Care Environment