Ready. Set. Clean. Evidence-Based Content
What your teams really need to know.
---
The Ready. Set. Clean. Certificate Program includes training and education content that addresses infection prevention strategies, cleaning, disinfection, sanitation, and preparedness for biological events and emerging pathogens, like COVID-19. 
Content Areas 
---
COVID-19 

Origin of SARS-CoV-2
Viral Characteristics
Special Considerations

Preparedness for Future Outbreaks 

Cleaning Protocols

Distinguish between Cleaning, Disinfection, and Sanitation
Cleaning Process
Cleaning Guidance (process, and quality monitoring)

Infection Prevention

How infections are Spread
Personal Protective Equipment (PPE)
The Importance of Hand Hygiene   

Emerging Pathogens:
What's on the Horizon?

Infection Prevention Strategies:
Linen and Textiles

*Additional content to be added shortly.
---
Format

Purchasing the Ready. Set. Clean. Certificate Program will gain your facility access to content via the AHE learner community. The above outlined content areas will be presented in the form of videos, presentations, checklists, and quizzes. Once each module has been completed you will have access to print an instant certificate for your facility, download all training materials, and gain access to a communication toolkit. learn more >
---
Communications Toolkit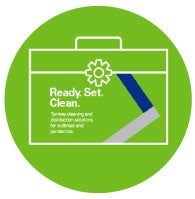 Facilities whose team members complete the Ready. Set. Clean. Certificate Program, will receive a Certificate of Completion to display for guests, customers and clients to see. Your facility will also earn the use of the AHE Clean Facilities Seal on print and digital communications. Reaffirm confidence in your brand by demonstrating customer areas have been cleaned to the health care best practice. For multiple facilities and chains, licenses are available.   learn more >
---